For centuries fishermen's wives and crofter women have been knitting the traditional stitch which form the intricate patterns of Aran Knitwear.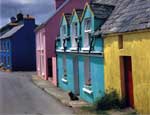 Their place of origin was the Aran Islands off the coast of Connemara in Ireland, where they were knitted for the families to keep them warm against the hostile elements and cold at sea. They have now become fashionable garments for all the family.

Every stitch pattern has a name and significance relating to every days events in the community. A popular stitch is TRINITY, sometimes called BRAMBLE, having religious roots in the 3000 year old Celtic Culture. The LADDER stitch leads upward to Heaven. The ZIG ZAG signifies the ups and downs of married life. The HONEYCOMB stitch represents the bees and relates to the hardworking nature of the farmers and fisher folk. This stitch was believed to be lucky and was reputed to bring bumper catches and safe sailing..

Cable stitches are a regular feature of Aran and represent the fisherman's rope. A variation known as CORK CABLE is a trellis stitch derived from the Celtic Cross.

Another favourite is the DIAMOND pattern signifying prosperity and when combined with the cable, the wish for success in ones life's work.

Each family designed their own stitches and were known by these individual designs. It was the custom for an engaged girl to knit a jersey for her future husband incorporating her own family design with that of his.

There is also the TREE OF LIFE, the rib that has branches springing from its stem to act as a charm to the wearer, ensuring long life and strong sons to help in the family business.

The BASKET stitch refers to a fisherman's basket or creel and symbolized a large profitable catch.

The TRELLIS pattern was worked in very small diamonds and was originated to portray the small fields of the croft fenced in by low walls.

The MOSS stitch denotes wealth because it portrays the edible sea-weed known as Irish Moss which even today is regarded as a luxury. We must not forget the BLARNEY KISS. It is shown by a cross cable supposed to be the battlements of Blarney Castle and symbolizes the old legend that those who kiss the Blarney Stone will possess the gift of a persuasive tongue.

Finally there is the LINK or CHAIN stitch which signifies the bond between those families and Celtic communities that have emigrated and settled in foreign parts.

Each Pure Wool Aran garment has been hand knitted with care and patience, on average taking up to 40 hours in the life of a knitter. It should be washed with care and allowed to dry naturally away from artificial heat. It can also be dry cleaned.

Take care of your garment and it will provide you with many years of warmth, comfort and pleasure.